Water Trucks: A solution to your grading, cleaning, dust control, and water needs for any industry.
All water trucks are manufactured and designed by McLellan and can be customized to your specific need, including a stainless steel option.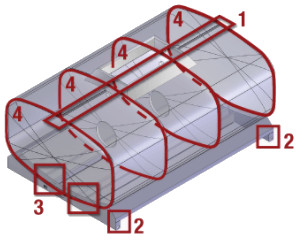 4000 gallon, 'A' style tank.
1 - SINGLE LONGITUDINAL TOP WELD SEAM
- A stronger shell with better structural integrity that will extend the life of your truck.
2 - FULL BOX BOLSTER
- 1/4 inch (0.635 cm) double-welded bolsters double the strength forming a tube like section. Superior design versus a typical "L" shaped single-weld bolster.
3 - BOX SECTION SUB-FRAME
- Lengthens tank life by distributing the weight of a full load into a "hat section" with flanges covering more contact area than a "L" section sub-frame.
4 - DISHED & FLANGED HEADS/BAFFLES
- Reduced roll-over rates by dampening the impact from slosh dynamics. No flat surfaces, 1 1/4 radius corners. More baffles per inch than most manufacturers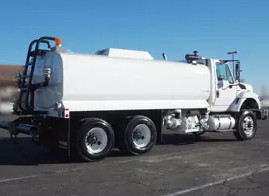 The A style tank features a 36" x 42" x 12" refilling lid. A style tanks feature extra baffles, 4 point leaf spring hold down kit, full length built-in fenders, 4" full size bolsters, front and rear.
Standard tank sizes available: 2000, 2500, 3600, & 4000 gallons. Custom Built up to 6400 gallons.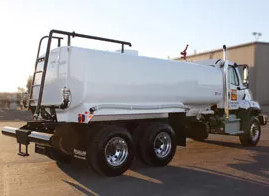 The B style tank features a 26" round fill dome refilling lid. B style tanks feature half length fenders, 2/3 full weld, 1/3 skip welded baffles, 4 point vertical spring hold down kit, ¼" plate bolster, and outside welded heads,
Standard tank sizes available: 2000, 2500, 3600, & 4000 gallons. Built up to 6400 gallons. 16GPI, 18 GPI,20 GPI and 22 GPI
What makes a M
c

Lellan tank unique?
McLellan offers a variety of arrangements to best meet your crew's needs.
Look below for information about some of our most predominant features.
Standards

Tank Information

Standard sizes: 2500, 3600, and 4000 Gallons
Shell: 3/16"-1011 grade 36 meets ASTM standards
Sub-frame & Bolsters: 1/4"-1018 grade 36 meets ASTM standards
Heads and Baffles: 3/16" Gauge – A1011 Type B commercial grade spec
Overfill protection: Raised dome lid that comes in two different styles

Water Pump
- 3" x 4", Drive types include:
Front Spray Bar

Two normally closed, 3 inch air operated air valves

Rear Spray Assembly with Ladder & Hydrant fill

Two normally closed, 3 inch air operated air valves
Rear spray bar has 3/4", 1.5" and 2.5" outlets for customization
Hydrant fill access from rear

Cab Controls

Custom McLellan cab controls
 Air operated
P.T.O. indicator lights illuminate when P.T.O. is engaged
Start/Stop for engine
Throttle Control
Hydraulic Control

Slotted Hold Down System

Eliminates tank bending, twisting, and vibrating by isolating the tank from the chassis.
Stops rocking with chassis
Perma Slats

Lights

Amber Strobe light/beacon
Dot/ICC LED lights, including:

Center Plumbing

Contained within the subframe of the tank to raise it above minimum ground clearance.

Safety & Detail Package

Fire extinguisher
Nonskid Grip on walking surfaces
Back up alarm
Water trucks should have the right tool for the right job. Browse our water truck options and view them below:
Self-Loading Systems
Hydrant Fill Pipe to Fill Dome-standard
Extra Sight Gauges-rear standard on "A" tank
Rotating Beacon light-standard
Manual, Spring-loaded, or Automatic rewind Reels
Pneumatic or Manual powered Side Sprays
Arrow Board
Quick Dump Systems
Shock Tower
Street Flush
2" Corner Mount Fan Spray
Extra Spray Valves
Work Lights
Air Throttle for Diesel Engines
Longitudinal Baffles
Tool Boxes
Frame Bracket
Angle Bars
Internal Coating
Left Side Spray
Exterior Rear Spray Valve
Front Site Gauge
Self Loading
Reel