McLellan offers a line of fuel and lubricant vehicles for fleet refueling. Developed in the rugged construction, agriculture, and commercial fleet refueling service industries, our trucks best serve our end users through quality construction and sensible design.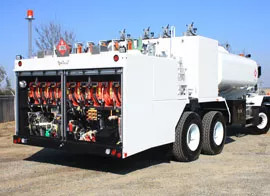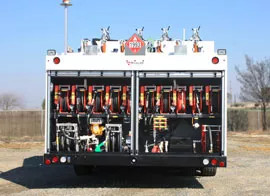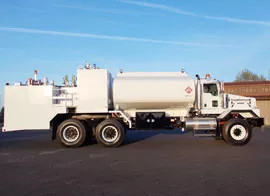 Standard Components
5300 Single-compartment Fuel Tank
Hydraulically driven system
Independent fuel tank and cross tank hold down system
Diesel fuel system with meter
Oil Delivery system
Used oil retrieval system
Oil filter drain box integrated into used oil system
Water/Antifreeze system with reel and pump
Air delivery system
Cab control panel
Customizable tool boxes
Backup alarm, fire extinguisher, & safety decals
McLellan Heavy-duty product reels
McLellan hydraulic rewind reels
Swing door, roll-up door, and 'K' back rears available
All electrical lighting enclosed in wiring harness
LED stop, tail, turn, and reverse lights
Up to six 55 watt halogen work lights
Leaf spring mounting system
Tank sight gauges
Tool boxes
Options
Roll up doors
Pressurized and sealed rear compartment
Two compartment grease tank
Desiccant moisture filter
Quick fill access for product oils and fuel (located in boot)
High-pressure product oil meters
Water tank
High flow fuel system with 1.5" hose, meter, hydraulic rewind reel, and 2" nozzle
Side access ladders
Why choose a McLellan Lube Truck?